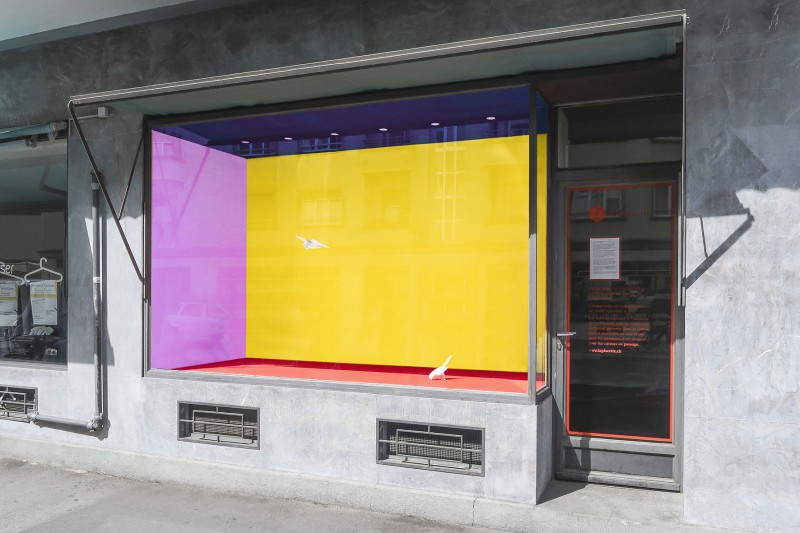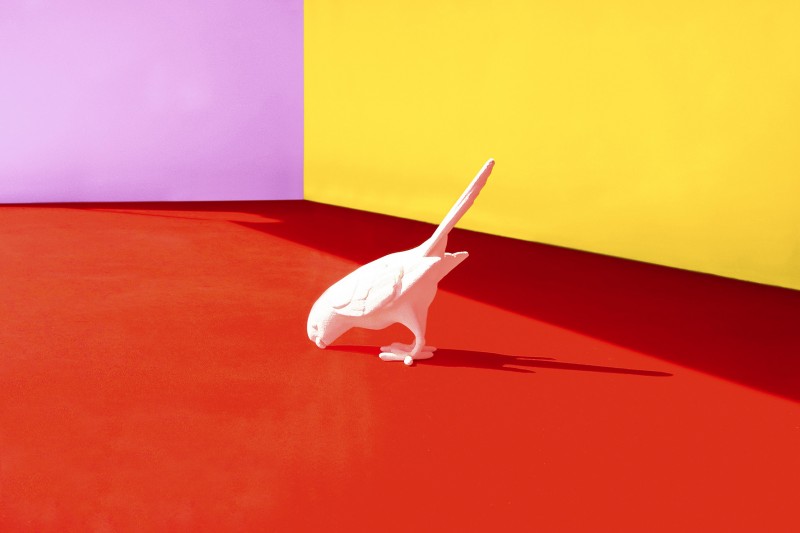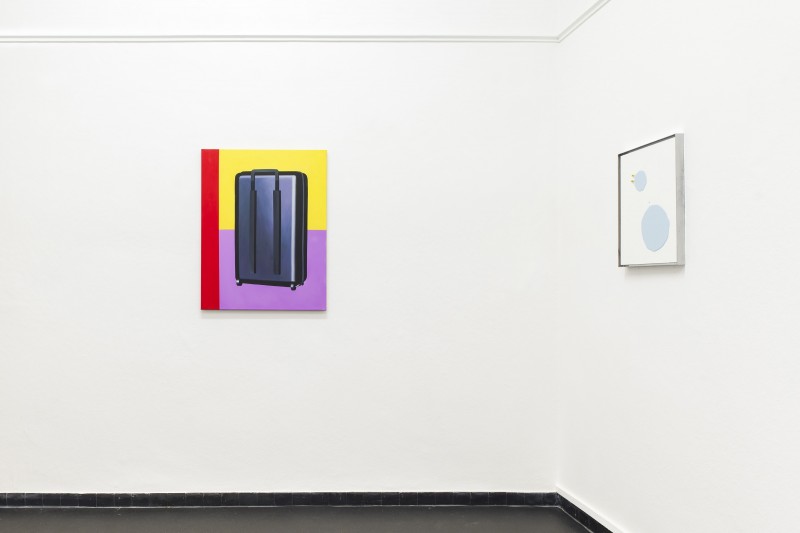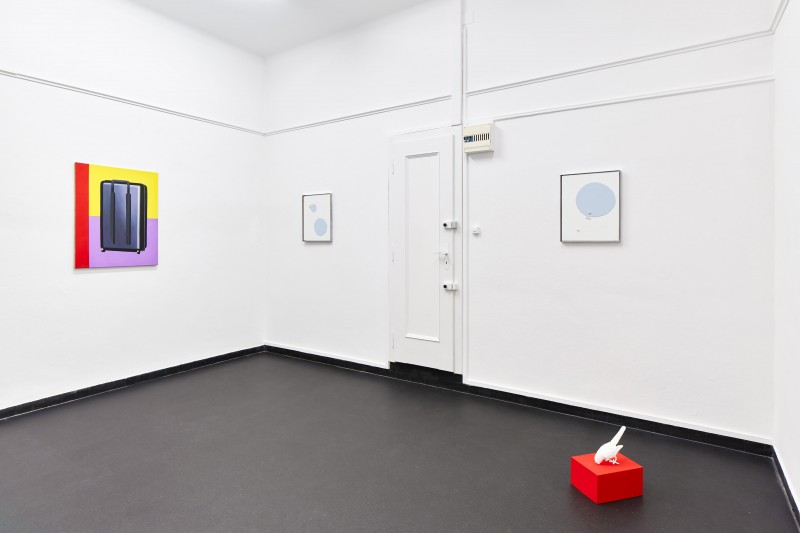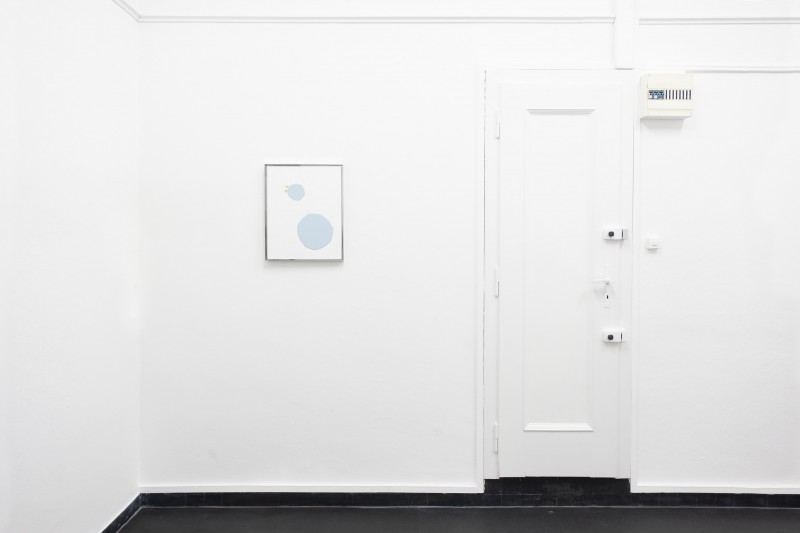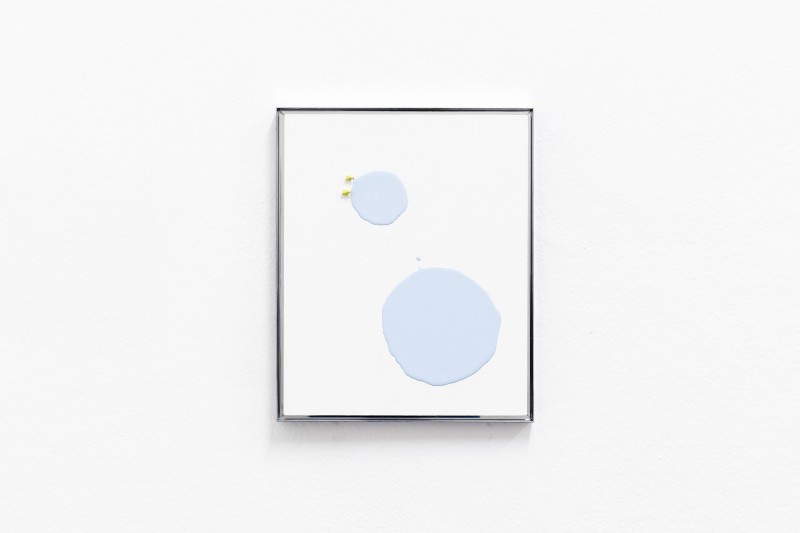 Photographies : Tudor Ciurescu
La Placette is pleased to present Free as a bird by artist Marius Steiger for its 200th exhibition. The show includes several paintings and the artist's first sculpture production, presented in a colorful storefront installation. Free as a birdfollows his last exhibition in Lausanne, Dog Walk at Chalet à Gobet. In terms of themes, the works on display explore the connotations with which our world is charged and bear witness to the imagery and symbolic language of modern culture.
Pure in its white nakedness, the sculpture, produced in a unique sand and porcelain 3D printing process, shows a bird as a symbol of freedom. Using a digital file as a template, Bird (Silence) was produced with the most advanced technologies from one of the most primal materials. In the brightly painted storefront of the space, it hangs like a diorama. Time is stopped, the bird flies in its colorful, silent vacuum. The hard-edged painted storefront can be seen as a 3D installation of Steiger's paintings.
Bringing together two art traditions such as abstract expressionism and constructivism, the two new small paintings Lake with two ducks and Two small lakes with two ducks, appear abstract at first glance, but on closer evoke a serene, bucolic outdoor setting. Drops of blue paint on white grounds, accompanied by small porcelain birds, transform abstraction into figuration. Framed in elegant aluminium frames, the paintings become objects aswell.
In conjunction with its frontal representation, Steiger's Lila Yellow Red Black Suitcase painting can be understood as a plain surface that empties the contents in order to better emphasize its function as a carrier. Thus it acts as a reminiscence of the promises that are also transported in this container.
Unveiling the artist's universe, Free as a bird is a joyful testimony to Marius Steiger's austere yet romantic visual language. The exhibition is open upon request until May 1st, 2022.